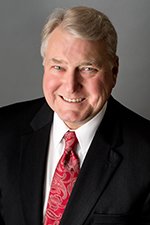 C. David Creech
Attorney
Since January of 1990, when he joined Tom Harris in forming the firm now known as Harris, Creech, Ward and Blackerby, PA, David Creech has focused on providing clients with the type of sophisticated legal representation associated with large, "Biglaw" firms, but with the flexibility, value and practical service of a medium size firm.  Like his partner, David realized that vigorously defending clients did not mean charging exorbitant rates, churning files, and "lawyering up" cases.  By the early '90s, it was clear that the days of such excesses in the legal profession, which had become the budget busting bane of in-house counsel, risk managers, claims professionals and business owners, big and small, were numbered. 
Today, David continues that mission begun over 27 years ago, and proudly represents companies and individuals throughout eastern North Carolina in a variety of civil disputes.  His practice includes defending hospitals and physicians in cases alleging medical malpractice.  He defends his fellow attorneys accused of legal malpractice.  He defends residential and commercial general contractors and tradesmen, as well as well as homeowners at odds with their contractors.  He defends insurance companies and their insureds in personal injury actions, as well as people injured by someone's negligence.  He defends large corporations with great zeal, and at the same time, helps "the little guy," who could never afford the same service from large "big city" lawyers.  David is also equally proud of his work in providing free legal advice to those who cannot afford it, through North Carolina Legal Aid's "Lawyer-on-the-Line" program.
In addition to professional liability claims, David's special areas of interest include Chapter 75 (Unfair and Deceptive) actions, malicious prosecution lawsuits, insurance bad faith claims, construction litigation as well as a variety of tort and contract claims and disputes.
David practices in both State and Federal Courts, and has extensive experience at the trial and appellate levels of both.  In addition, he represents clients at mediations, and is experienced in arbitration, both as an advocate and as an arbitrator.  In all circumstances, David lives and works by the same philosophy:
"Do your best to let clients know as soon as possible what they are dealing with, what it will likely cost to conclude the matter, give them the best advice you can on the alternative routes to get there, and then work and fight like hell to make it happen." 
A North Carolina native, David earned his Juris Doctor with honors at the University of North Carolina in 1988 where he was an editor of the North Carolina Law Review.  David is listed in Law & Politics magazine as "Super Lawyer". He is "AV" rated by Martindale-Hubbell, is listed in "Best Lawyers in America," (Medical Malpractice 2007-2009) (Medical Malpractice, Personal Injury Litigation 2010-2014), (Litigation – Health Care, Medical Malpractice Law, Personal Injury Litigation 2015), Health Care Law, Insurance Law, Litigation – Health Care, Litigation – Insurance, Medical Malpractice Law, Personal Injury Litigation 2016-2017), "North Carolina Legal Elite" (Litigation 2003, 2005, 2017), (Construction 2008-2009), and is a member of the Federation of Defense and Corporate Counsel, and the North Carolina Association of Defense Attorneys. David has published analyses of legal precedents and trends, and he is often engaged to address professional workshops and seminars on areas of his expertise. He is an avid scuba diver and underwater photographer.
AREAS OF PRACTICE
Litigation - Defense of Professional Liability
Physicians
Allied Health Professionals
Chiropractors
Attorneys and Other Professionals
Litigation
Personal Injury
Construction Liability
Products Liability
Automobile Liability
Insurance Claims
First Party Claims
Coverage Opinions
Bad Faith Litigation
Unfair and Deceptive Trade Practice Claims
Arson Investigation and Defense Against Arson Claims
EDUCATION
Bachelor of Science (Political Science)
East Carolina University, 1985
Juris Doctor with Honors,
University of North Carolina at Chapel Hill, 1988
PROFESSIONAL ASSOCIATIONS
American Bar Association
North Carolina Bar Association
Craven County Bar Association
North Carolina Association of Defense Attorneys
North Carolina Legal Aid, Volunteer Attorney
Federation of Defense and Corporate Counsel
ADMISSIONS
North Carolina State Courts
United States District Court for the Eastern and Middle Districts of North Carolina
United States Court of Appeals for the Fourth Circuit
COMMUNITY INVOLVEMENT
Trillium Health Resources, Past Member of Governing Board and Vice-Chair
East Carolina Behavioral Health (now Trillium Health Resources), Past Member of Governing Board
New Bern Shrine Club
Sudan Temple, member
St. John's Lodge no. 3, AF&AM