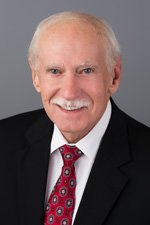 Thomas E. Harris (retired)
Attorney
Tom Harris was the senior partner and founding member of Harris, Creech, Ward & Blackerby. He focused his practice on litigation for over 40 years, with particular expertise in defending health care providers and other professionals against liability claims, as well as in dispute resolution and minimizing exposure to litigation.
Tom is listed in Law & Politics magazine as "Super Lawyer"/"Top 100". He is also a fellow in the American College of Trial Lawyers. Tom is a past-president of the Eastern North Carolina Inn of Court, and one of the founders of the North Carolina Chapter of the Board of Trial Advocates.
A native of Lexington, Kentucky, Tom attended the University of Kentucky for both his undergraduate career as well as law school. After practicing law in Lexington for 12 years, Tom moved to New Bern in 1978 where he refined his skills as a litigator, defending professionals in malpractice claims. In 1990, Tom founded the firm of Harris and Associates, which evolved into today's Harris, Creech, Ward & Blackerby.
Tom retired from the practice of law in 2019.