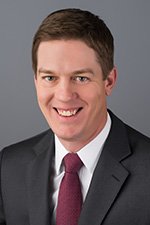 Jay C. Salsman
Attorney
Jay Salsman joined Harris, Creech, Ward & Blackerby in 2005 and is a partner in the firm.  His practice focuses on a wide variety of civil litigation matters.  Jay defends professionals in claims alleging malpractice and represents businesses, insurance companies, and individuals in matters involving personal injury, premises liability, commercial disputes, and construction defects.  He additionally represents insurers in first-party litigation involving complex coverage issues, allegations of bad faith, and subrogation. 
Jay maintains an active presence in the state trial and appellate courts, as well as all three federal district courts in North Carolina. He has diverse trial experience, involving claims for wrongful death alleging medical malpractice, general personal injury matters, premises liability claims, and insurance coverage disputes involving incendiary fires.  Jay has also arbitrated numerous cases, pertaining to construction disputes and claims seeking UIM/UM benefits. 
Jay has extensive appellate experience, successfully bringing and defending appeals on behalf of his clients.  Published appellate decisions in which he has been involved, include, among others: Philips v. Pitt County Memorial Hospital, 572 F.3d 176 (4th Cir. 2009); Farm Bureau v. Cully's Motorcross Park, 366 N.C. 505, 742 S.E.2d 781 (2013); Brown v. Kindred Nursing Centers East, L.L.C., 364 N.C. 76, 692 S.E.2d 87 (2010); Kornegay v. Robinson, 360 N.C. 640, 637 S.E.2d 516 (2006); Philips v. Pitt County Memorial Hospital, 775 S.E.2d 479 (N.C. Ct. App. 2015); Philips v. Pitt County Memorial Hospital, 222 N.C. App. 511, 731 S.E.2d 462 (2012); Lowd v. Reynolds, 205 N.C. App. 208, 695 S.E.2d 479 (2010); MacFadden v. Louf, 182 N.C. App. 745, 643 S.E.2d 432 (2007); and Smith v. Serro, 185 N.C. App. 524, 548 S.E.2d 566 (2007). 
Jay received his Juris Doctor from Wake Forest University School of Law in 2005 a Bachelor of Arts degree in 2002 from DeSales University, graduating summa cum laude.  He is "AV" rated by Martindale-Hubbell and has been selected as a North Carolina Super Lawyers "Rising Star" from 2010 through 2017.
AREAS OF PRACTICE
Litigation - Defense of Professional Liability
Physicians
Other Allied Health Professionals
Attorneys and Other Professionals
Chiropractors
Litigation
Automobile Liability
Construction Liability
Cyber Liability & Privacy Law
Insurance Claims
First Party Claims
Coverage Opinions
Bad Faith Litigation
Unfair and Deceptive Trade Practice Claims
Arson Investigation and Defense Against Arson Claims
Subrogation
Insurance Coverage
Appeals
EDUCATION
Bachelor of Arts, (Criminal Justice), DeSales University, Center Valley, PA, 2002, summa cum laude
Juris Doctor, Wake Forest University, Winston-Salem, NC, 2005
PROFESSIONAL ASSOCIATIONS
Craven County Bar Association
Judicial District 3B Bar Association
North Carolina Association of Defense Attorneys
Defense Research Institute
Professional Liability Defense Federation
Federation of Defense and Corporate Counsel
ADMISSIONS
North Carolina State Courts
United States District Court for the Eastern, Middle and Western Districts of North Carolina
United State Court of Appeals for the Fourth Circuit